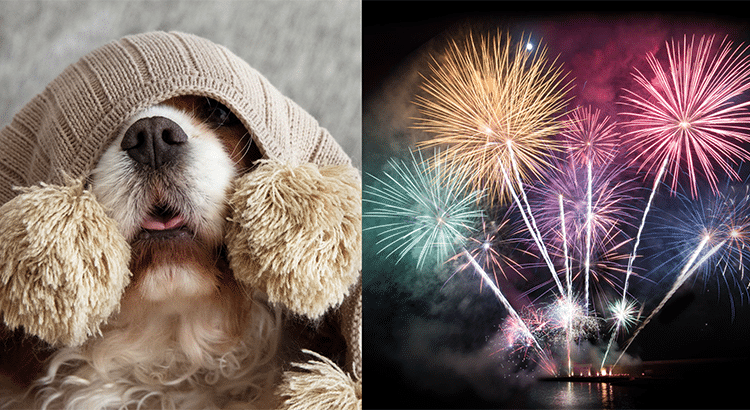 Pet Safety Tips for the Fourth of July
Of all the holidays celebrated in the U.S., the Fourth of July is ranked high on the list of those jeopardizing pet safety. Not only are pets and their parents trying to beat the harsh temperatures of summer, this holiday adds a long list of dangers against pet protection. Preserving pet safety this Fourth of July can be helped by adopting a few simple practices.
Up-to-Date Pin Paws Pet Profile
While we encourage microchipping, we also are aware of the situations in which a second line of identification is necessary for your pet. Each dynamic Pin Paws tag has a unique member ID number linked to your pets' online profile. It is important to keep the most recent profile information available so that you will be notified should your lost pet be found. As our looks change with different haircuts and colors, pets change too. Keeping an updated photo of your pet in their online profile will come in handy for identifying your pet and if needing to quickly print a Lost Poster.
Keep Pets Indoors
Not only do pets need protection from the heat, protecting pet safety also means keeping them indoors and away from harmful situations. Fourth of July lends access to many toxic products and situations including exposure to fireworks, alcohol, poisonous foods, irresponsible partygoers, and other things risking pet safety. Indoors, your pet can find protection and comfort being in a familiar space and away from immediate harm.
Protection from Guests
Our fur babies are just that, our babies. Two legs or four, we were made to protect them from others. It is important to secure your pet away from other guests who may not be as mindful when it comes to firework safety and flames. Guests may also not be aware of the potential dangers lurking around and the most positive thing owners can do to preserve pet safety is to keep pets secured in their own space.
Create a Comforting Environment
Pets are creatures of habit and become comforted in familiar situations. Having your pets' bed or favorite sleeping spot readily available provides a calming environment. Additionally, playing relaxing music or turning up the T.V. helps drowned out the fear causing Fourth of July booms. If you have used essential oils with your pet before and are assured of no adverse reaction, using a lavender diffuser can help create a calming environment. The same goes for topical CBD oils and infused dog biscuits.
Remove Harmful Objects
While it is possible your pet is unsettled this Fourth of July, keeping harmful objects out of their reach is important this holiday, and all the other days of the year. Things that are harmful to pet safety include:
Sugar free gym/candy
Chocolate & coffee
Alcohol
Antifreeze & cleaning products
Grapes & raisins
Caffeinated drinks
Certain plants
Onions & garlic
Pharmaceutical drugs
Certain rawhides
Exercise Early in the Day
In addition to avoiding the dog days of summer heat, exercising your pet early in the day will help increase their level of fatigue come afternoon. Exercising earlier can also help deter any behavioral problems associated with stressful situations as your pet will be more exhausted than usual. Forms of exercise can include taking your pup for a walk, swimming, playing fetch, playful wrestling or hiking. A general rule of thumb is most dogs need 30 to 60 minutes of physical activity a day.
Safe Indoor Space
Creating a comforting, indoor space for your pet ties in some of the above recommendations. It is likely your pet has a place in your home they feel safe and consider their own. A clean bed, blankets, and access to water can help settle your pet. Also, keeping blinds and drapes drawn during the Fourth of July will protect your pet as dogs have been known to attempt to break through glass windows and doors when frightened.
Leave Your Pet at Home
While there are cute carriers and strollers to take our pets on outings, the best rule for pet safety during this booming holiday is to leave them at home. Exposing your pet to large (or even small crowds), explosive sounds, and pulling them out of their natural element can be detrimental. It's a guarantee your pet will be just as happy to see you when you return and probably forget that you ever left after a couple of kisses and a milk bone.
Treat for Anxiety
If your pet is overly anxious at the sound of fireworks, people visiting your home, and the hustle and bustle of Fourth of July activities, there are ways to help calm their anxiety. Your veterinarian can prescribe medication, a thunder vest or scarf wrap can provide calming pressure, or you can seek approval for the aforementioned CBD oil. There are multiple ways to ease your pets' anxiety and best practice would be to see what works, perhaps during a thunderstorm, before the Fourth of July arrives.
Following the above safety guidelines can help protect your pet and give you peace of mind that you have prepared your furry member for the big holiday celebrations. Whether you plan to entertain guests at home or join a crowd elsewhere, you are now ready to best prepare your pet for a night of comfort and relaxation.
At Pin Paws, we believe in providing pet parents with access to ways to protect the health and well-being of their furry family members. Our Pin Paws Plus membership covers all pets in the home for $24.95/month. Each pet receives:
A dynamic Pin Paws tag with online profile
Access to veterinarian advice 24/7 with whiskerDocs
Discounted pet prescriptions and preventatives
Exclusive discount codes for pet products and services
Click here for more information and to sign up today: Pin Paws Plus.