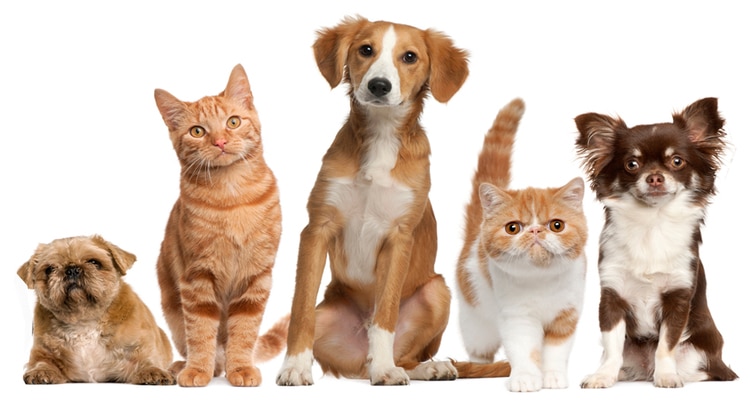 Pin Paws Plus: A Bundled Discount Pet Membership
Whether you have one dog or six cats, Pin Paws Plus is the pet membership for you.
Pin Paws originated with the idea of helping lost pet become reunited quicker with their owners while eliminating the need for them to be scanned for a microchip. Our lost-pet notification tag was developed, with an online pet profile for storing important information and vet records. When a lost pet is found, their profile can be accessed by scanning the dedicated QR code on the back of the tag, calling our 24/7 Customer Service line, or visiting www.PinPaws.com and entering the member ID number listed on the tag. At the same time the profile is accessed, the owner gets a text message of the geo-location of where their pet was scanned. This accelerates the amount of time it takes for a lost pet and their owner to be reunited. While our Pin Paws pet tag is a nice compliment to the microchip, it comes in handy on that late Saturday night when a dinner guest lets Max out the front door and he's lost after business hours.
Bundled within this pet membership are three other products that add great value. Wigglepon is member's only benefit providing online access to exclusive coupon codes and discount links on pet-centric products and services. This includes discounts on pet food, apparel, subscription boxes and much more.
Some of the company discounts members have access to include:
Bark Box
Dog Is Good
Diabetes and cancer care
NomNomNow
Kit Nip Box
King Canine
Another added perk to this pet plan is a membership to whiskerDocs. By now we have all heard about telemedicine for humans, well, this is telehealth for pets. When it is midnight and Fluffy has eaten a whole chocolate bar, imagine the money saved by picking up the phone and connecting with a vet expert rather than jumping in the car and racing to the emergency clinic where you are simply told what signs and symptoms to monitor for and are handed a $350 bill. Making a phone call to receive the same advice sounds more practical and affordable. Should something more tragic have happened, you would then be advised to in fact seek emergency medical care. whiskerDocs vet assistance is available 24/7 via phone, email or chat.
whiskerDocs Testimonial:
"I spoke to Dr. Tracy about Carrie and her ear infection. I felt as if I was sitting in the office with Dr. Tracy discussing the problem. She took the time to explain every detail that I need to know to help resolve this problem."- Karen R., New Jersey
Prescription and preventative medications are expensive. Veterinarians charge upwards of $150 for one 6-month supply of Trifexis. How is this affordable for an owner of one, if not more dogs? Pin Paws Plus has also included within their discount bundled pet plan membership to Rx Valet for Pets. Trifexis through their website is $104. This significant savings is also available for medications for animals who have diabetes and other more involved illnesses.
Purchased separately, each individual monthly membership per pet would cost:
Pin Paws: $9.99 for the first pet/ $4.99 for each additional pet
whiskerDocs: $39.99 for a "need it now" call, or $16.99 per pet/per month
Rx Valet for Pets: $19.95 per month
Wigglepon: $9.99 per month
This could cost a pet owner upwards of $80 per month per pet.
A Pin Paws Plus discount pet membership covers ALL pets in the house for $24.95 per month.
To take advantage of this very affordable offer and get all these perks for your fur babies, visit Pin Paws Plus. Help protect your 4-legged extended family by having ways to help them live their best lives.