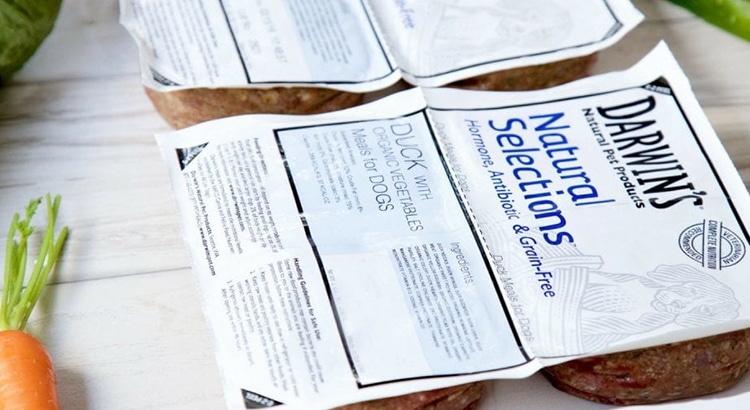 Darwin's Natural Selections Raw Dog Food Review: Hormone, Antibiotic & Grain-Free
While performing research for pet-centric products and services, I stumbled upon a few raw dog food sites. While the thought of feeding my pets, five dogs, something that was not processed or cooked sounded frightening, I reached out to Darwin's Natural Pet Products on a whim. While they offer raw dog food and cat food, my personal experience will touch on their dog food line.
Here are some key points from my experience with Darwin's Natural Pet Products:
Customer Service– We all know how much first impressions mean. From creating a positive user experience, to actively listening to the needs of the consumer, developing a positive relationship from the beginning holds meaning. My experience with Darwin's Affiliate Program Manager was exceptional. He guided me in joining their affiliate program and offered to send raw dog food samples for my pups to try. While I requested turkey, and expected a small sample for each to taste, he went above and beyond and stocked my freezer with an abundant supply, including venison jerky.
Turkey Recipe with Organic Vegetables for Dogs– Let's delve into the ingredients and details of this raw dog food before sharing it with the pups. One important fact to take note of is the main ingredient is Turkey (74.64%). While we hear to steer away from corn and grain being the main ingredient in the food we feed our pets, Darwin's definitely has that handled. Organic Vegetables make up 24.66% and includes yams, romaine lettuce, zucchini, carrots, yellow squash, celery and parsley. This sounds fit for a king or queen. Other nutrients listed are organic flax seed oil, sea salt, insulin, cod liver oil (source of Vitamin D), zinc proteinate, iron, proteinate, copper proteinate, Vitamin E, manganese proteinate, thiamine mononitrate and iodine. That's a mouth full, literally.
Darwin's Natural Selections is premium raw dog food, grain-free, gluten-free made with only free-range meats and organic vegetables.
Options, Delivery and Feeding– There are several raw dog food options Darwin's has to choose from. These include chicken, duck, turkey, beef and lamb. These choices are part of their Natural Selections line, premium raw dog food that is grain-free, gluten-free and provides complete balanced nutrition for your dog. The animal products in each option are raised cage-free or pasture raised, are grass fed and are free of steroids, antibiotics or artificial growth hormones. Delivery can be scheduled for auto-ship to negate the busy lives most lead. Order sizes can be  tailored to meet each pet's individual needs. Orders can be changed or cancelled prior to shipping. Darwin's makes their food fresh and is immediately frozen in vacuum-sealed packages to preserve quality and nutrition naturally. Delivery is completed in insulated containers, and the only thing to do is thaw and feed.
How Darwin's Can Help Your Pet's Health– There are many health benefits to feeding your pup Darwin's product line. Included in that list are improving: Skin conditions, Epilepsy, Eye conditions, Digestive health, Ear conditions, Weight issues, and Digestive disorders.
My Pups Response to Darwin's Natural Selections Raw Dog Food– You would think they won the lottery! I choose to use Darwin's as a special treat and mix it with their dry dog food. One package is enough to split between all five pups as the serving sizes are generous. When they see me pull a thawed package from the fridge, they dance, prance, their tails go ninety-to-nothing and they are ready to devour this tasty treat! The howling, or should I say singing, lets me know they are excited and appreciate this delicious addition to complete their feast.
Darwin's Customer Testimonial:
 "My English bulldog was getting skin infections every month needing antibiotics and suffered from seasonal flank alopecia. Since going on Darwin's, her skin has completely cleared up and her seasonal flank alopecia has completely disappeared, and she is now at a very healthy weight. We are thrilled with what Darwin's has done for her!" ~Theodore Pappas – Portland, OR
At Pin Paws, we have partnered with Darwin's Natural Selections Raw Dog Food to offer our Wigglepon members access to a trial package. With a Pin Paws Plus membership you can have access to this package, along with other savings on pet-centric products and services. Sign up today and start saving.